Friesians In Color

Karen J. Fish & Michael A. Fish

65618 E Sunsetview PR SE

Benton City 99320

At Friesians In Color we treasure the Saddlebred part of our horses as much as the Friesian part as they provide their offspring with so much more than color.  We are originally from England and the American Saddlebred may well be  "America's best kept secret." In truth their fantasy-style appearance leaps out at you, but a little known secret is that the ultimate show horse has a lot more than looks in his favor. They are intelligent, have plenty of commonsense, love to interact with people and are easy to train; they have been used for years in the show world (Flicka, Mr Ed, Fury). They are also incredibly athletic and supple with inbuilt stamina, and have been used to represent the USA in dressage, show jumping, eventing, driving and endurance (an ASB gelding was the world endurance champion for three years running). In fact while people here are importing Friesians from Europe, people in Europe are beginning to notice the American Saddlebred and some members of that breed are heading in the other direction. Here are some quotes about the American Saddlebred on the ASA of Great Britain web page " A supreme athlete...has to be seen to be believed......A jack of all trades - being an excellent horse for dressage, jumping, endurance, circus, family utility, driving - and master of most". "For some strange reason this pearl of equine excellence has not been generally harvested by the sport horse world."  I consider the Georgian Grade to be my ultimate dream horse and it may turn out to be yours as well. Here are some quotes to tempt your interest.

"While not every horse in every breed is capable of competing in sport horse events, American Saddlebreds have found their place in these ultimate tests of fitness, durability, and refinement. They are excellent jumpers, are naturally light on the forehand, and have tremendous stamina - making them a competitive force in the world of the sport horse."  (The American Saddlebred as a Sport Horse,
www.american-saddlebred.Com)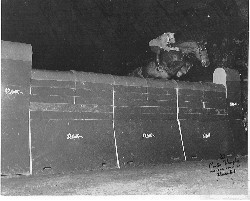 Saddlebred's can jump! Stonewall's Little General. Champion showjumber and Puissance horse. Here pictured jumping a wall over 6ft tall.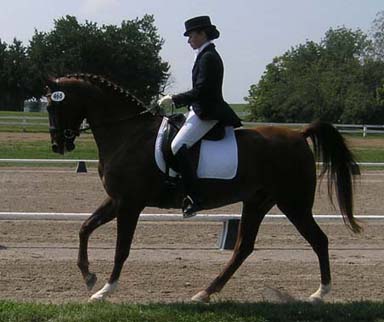 "For more than 100 years, American Saddlebreds have been produced for the purpose of carrying a riders weight comfortably and efficiently........I have never seen any Saddlebred horse - even a part bred - who did not readily perform the passage .....Most have incredibly comfortable and coordinated canters as well  .....I think they are the most neglected of all breeds suitable for dressage," (Dr. Deb Bennett, PhS., Applied Conformation Series, Equus 225).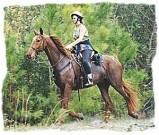 "Saddlebreds' strengths are their lovely temperaments, uphill carriage and excellent bending of their joints. They generally have lots of talent for piaffe and passage. The ones that are the most suitable for dressage are the ones that can perform trot extentions. Most Saddlebreds train very easily," (Hilda Gurney, three-time Olympian, American Saddlebred July/August 2006). Gurney won a Grand Prix Championship in 2005 with Fancy Trick, a Saddlebred/Arab cross her piaffe received a score of 9.

GEORGIAN GRANDES!!!!!! Perhaps the most elegant of all, the Georgian Grande is a cross between FRIESIAN stallions and SADDLEBRED mares. Always Grand Prix movers, they make excellent CT/and show ring jumpers! These are so gorgeous to look at, so elegant and refined yet they have plenty of good clean, flat bone. The Georgian Grande  is extremely athletic, has impulsion, SUSPENSION and extension that will take your breath away!!!! You truly get the best of both worlds,  the best of the Friesian and the best of the saddlebred in a Georgian Grande warmblood!!! This cross has elegance and grace, but also plenty of heart and stamina; they are calm of mind but brave of heart and will never let you down!  The demand for the Georgian Grande is very strong and grows more so each year. More and more people are falling in love with this breed!!! -
www.flyingwfarms.com/horses/horse1.html
.
"(Saddlebred's are) remarkably free of the foot and leg problems that plague the Thoroughbred and Warmblood breeds....(people would be) hard pressed to think of a discipline in which a Saddlebred cross would not match the breeds traditionally associated with that discipline. This cross produces a more personable and willing horse for the huge number of women riders in North America." (David Turner, former directed of the Half-Saddlebred Registry,
www.american-saddlebred.com/protean/ asbsport.htm).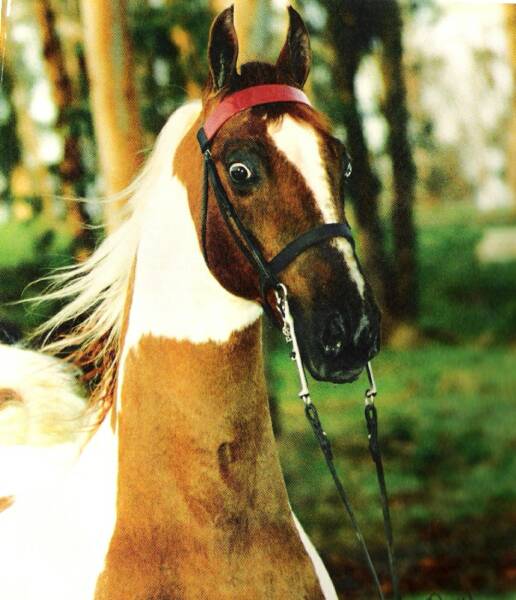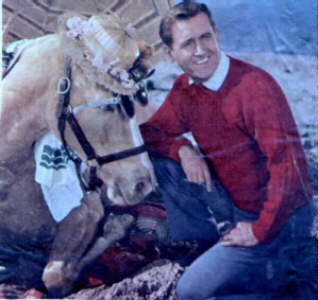 " The athleticism and brain-power that a Saddlebred brings to his relationship with his owner allows him to learn any task required of him. ...He loves interaction with people and a stimulating life-style. ....Many have found careers in the world of show business.....Flicka, Mr Ed, the original Fury, and many other characters were Saddlebreds. They have appeared in such movies as Gone With the Wind; Gettysburg; start Trek-Generations, where William shatner rides his own Great Belles of Fire. Buffalo Bill's favorite trick horse in his Wild West Show was Saddlebred "Clumbus".
www.americansaddlebreds.co,.uk/Versatility.htm).
Despite common misconceptions, most American Saddlebreds are not naturally gaited, and are happy to restrict themselves to the "usual" gaits.  They are active, people oriented, outgoing horses with a "can do" attitude.  In build, they are generally uphill, have "big motors" and possess self-carriage.  Their "we try harder" attitude makes them a natural for dressage......It is rare Saddlebred that doesn't love to jump.  All of these characteristics make them great choices for the multifaceted challenges of eventing.  Chris Uhlinger UMD
www.american saddlebredsporthorse.com/articles/index.html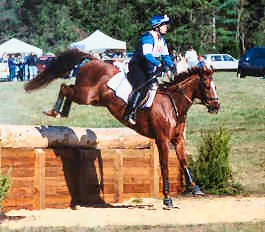 STANDARD OF THE BREED

The Georgian Grande horse has the elegance and noble bearing of the saddlebred perfectly blended with the size, good bone and calm disposition of the Friesian or draft.

It carries itself with an attitude that eludes description, some call it "presence, class. or style", but this superior air distinguishes ever movement of the Georgian Grande. They are extremely versatile and good at multiple diciplines, their movement is that of upper level dressage. They excel in driving as well as jumping, on trails they are dependable, quiet and calm. They grow big and stay sound. They possess strength, beauty and good mind! See more information at www.georgiangrande.com

The Friesian is, by nature, a talented show horse with its shiny black coat, flying mane and tail, and high knee action. Today, they are now gaining further respect in the dressage arena as some specimens of the breed are reaching Grand Prix level due to their natural carriage and elevated movement. They also perform very well in harness events such as pleasure, dressage, and combined driving. Driving one or more Friesian horses has become increasingly popular in the past few years. Tough international competitions are only for the few, but there are many who derive relaxation and pleasure from driving their Friesians for recreation or to perfect and test their driving skills at dressage driving events.The Friesian's beauty, size, rideability, and temperament make them a perfect choice for the whole family.


OVERALL IMPRESSION: One of grandeur, and great power, yet very gentle and submissive to rider or handler. A large, very impressive horse that commands attention wherever it is seen.

DISPOSITION: Intelligent, alert, proud but always calm and quiet. Easy to train and very willing to work.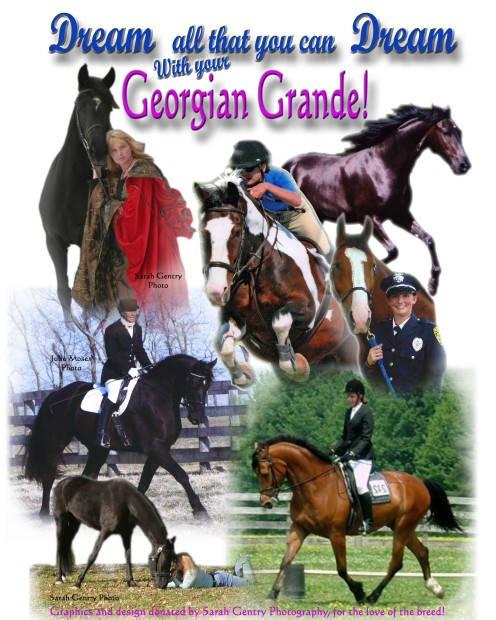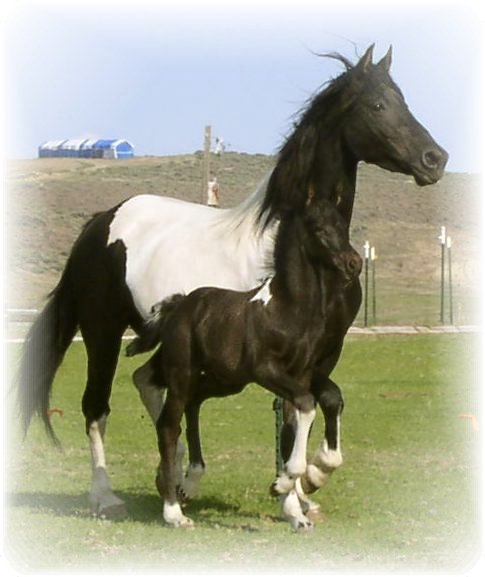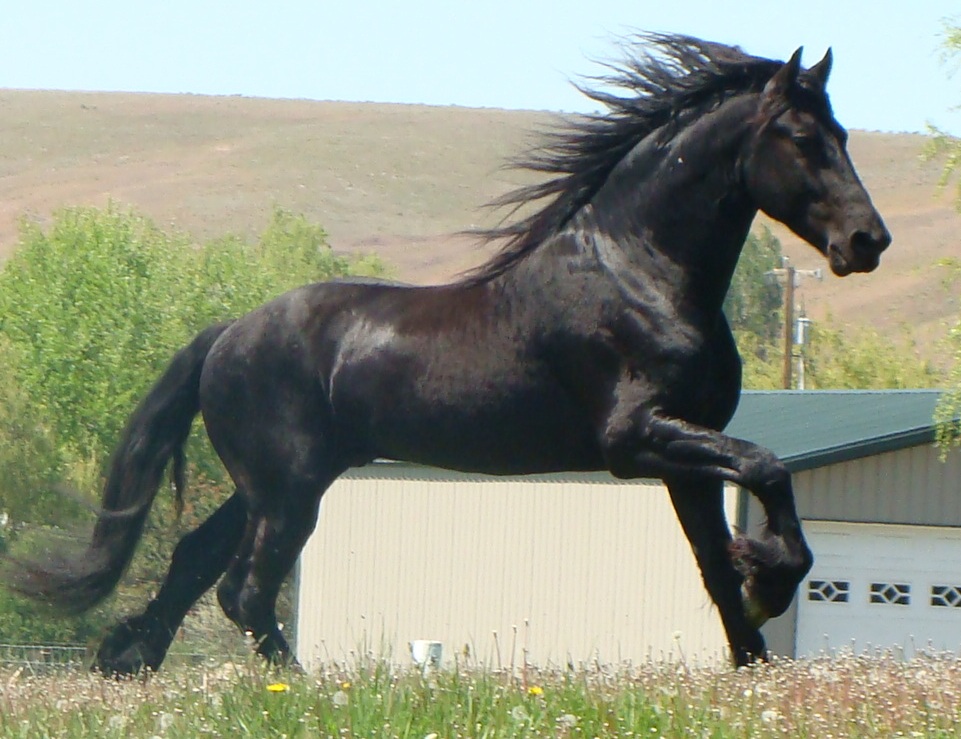 Our broodmare Starlight's Echo

Saddlebreds have been successfully used as Endurance horses

Chubasco, the all time leading Saddlebred sire ranked by Grand National earnings of get, he is in the pedigree of five of our broodmares